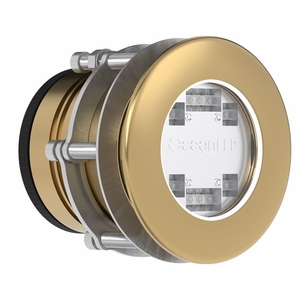 OceanLED Explore E3 XFM Color Scroll Underwater Light
OceanLED Explore E3 XFM
Model: E3009CS
New generation innovative, efficient reflector optic.
20? side beam produces a blade of light under the water that penetrates further.
A true 90° wide-angled, focused top beam lights up a large area of water, flooding it with light.
Reduced installation time.
Fish strobe mode.
Same light output as Sport Series.
Up to 5,000 Fixture Lumens*
Rectangular Beam
Compact design and built in driver.
Simple toggle control.
Ultra low profile outer bezel.
The Explore E3 has the most advanced optics available on the market.
The mix of optic / electronics / form factor / built in driver / plug and play work together to make the most advanced underwater light series available in the market.
All aspects of the design including the clamping kit make installation quicker and simpler.
The compact size and built in driver mean less space is required inside the vessel, allowing installation in tight areas.
Specifications
| | |
| --- | --- |
| Lumens (Colour Scroll) | 8,500 8,500 19,000 |
| Fixture Lumens (Colour Scroll) | 3,000* |
| Min-Max Operating voltage DC | 9-32V DC |
| Current / Amp draw Colour Scroll (12V DC / 24V DC) | 5.5A / 2.4A |
| Min-Max Operating voltage AC (Optional) | 100V - 240V AC |
| Current / Amp draw Colour Scroll (110V AC / 230V AC) | 620mA / 290mA |
| Driver type | Internal |
| Boat size | 0-10m |
| Transom / Hull spacing | 0.5-1.2m (2-4') |
| Installation depth below waterline | 25-30cm (10-12") |
| Total weight | 1.2kg (2.65lbs) |
| Total Diameter (Including Flange) | 105mm (4.13") |
| Diameter Of Body | 80mm (3.15") |
| Profile Of Fixture | 4mm (0.16") |
| Length | 97mm (3..8") |
| Minimum Space Required Inside The Hull | 170mm (6.55") |
| Hole Cut-Out | 83mm (3.25") |
| Material (Mounting Tube) | AB2 Aluminium Bronze |
| Material (Light Body) | Aluminium |