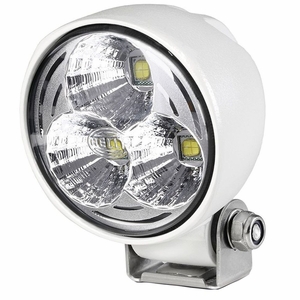 Hella Marine Module 70 Gen 4 LED Floodlight - White Housing - Long Range - 2100 Lumens
Module 70 Gen 4 LED Floodlight - White Housing - Long Range - 2100 Lumens
The popular Module 70 LED floodlight has been seriously upgraded. Now producing 2100 lumens light output for only 21W consumption. The housing is also finished in a new premium Corosafe coating for even more resistance in extreme operating conditions.
Despite its small dimensions, the new Module 70 Gen 4 has three high-performance LEDs that generate 2100 lumens of crisp white light while consuming just 21W of power. (1.75A @ 12V DC)
The close-range lens offers a wide and even distribution, ideal for cockpit, foredeck, and work area illumination.
Completely sealed (IP6K9K) and coated with the new CoroSafe technology this lamp is particularly suitable for the tough marine environment. Offering improved protection from damage with two extra layers and the combination of different coating processes, making the work lamp substantially more resistant to corrosion.
Advanced Multivolt 9-33V electronics ensure reliable illumination and lamp protection even under severe voltage fluctuations and low battery conditions. Pre-wired with marine cable and a single bolt 316 stainless steel bracket, this work light can be installed quickly.
Like all Hella marine LED lamps Module 70 is supported with a 5-year warranty for
complete peace of mind.
Features:
LED
12/24V Multivolt
IP67 Completely Sealed
UV Resistant
5-Year Warranty
Specifications:
Material Description: UV and impact-resistant plastic front housing
Die-cast aluminum body
Glass lens
Bracket: 316 stainless steel
2100 Lumens
Color Temperature: 6500K
Cable: Pre-wired with 2.0m of twin core marine cable
Operating Voltage: Multivolt 9-33V DC
Degree of Protection: IP 67 - Completely Sealed
Power Consumption: 21W (1.75A@12V DC/0.88A@24V DC)
Cable: Pre-wired with 1M marine cable
Installation: Upright or pendant