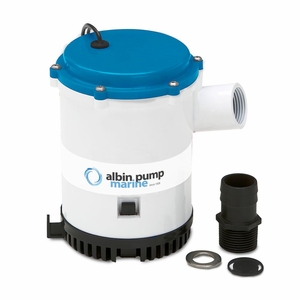 Albin Pump Bilge Pump Heavy Duty 1750 GPH - 12V
Bilge Pump Heavy Duty 1750 GPH - 12V
Submersible heavy duty bilge pump 12V with pump capacity 110 L/min (1750 GPH) and 85 L/min (1350 GPH) at 1m head. Stainless steel shaft, double ball bearings, mechanical seal, tough thermoplastic ABS housing and a robust long-life motor design.
Universal base plate with strainer and pin (for "T-slot") to attach a level switch for automatic operation. Including check valve, 32mm (1,25″) and 38mm (1,5″) ports. 6A fuse.
For pleasure or commercial boats above 10m (30Ft) length. Interchangeable with Rule 1500, Johnson Pump 16004-00 /32-1600-01.
Features:
Weight: 0.7 kg/1 lb
Dimensions: 150/6L x 170/6.7H x 130/5W mm/in
Heavy Duty Submersible
CE marked 94/25/ECC, ISO8846 Small Craft, Electromagnetic compatibility 89/336/EEC, EN51014 1993/radio disturbance