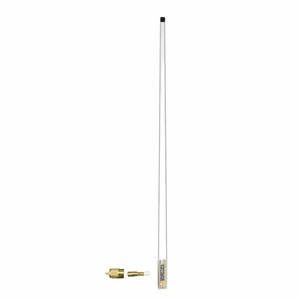 Digital Antenna 598-SW-S 8' AIS Marine Antenna w/25' Cable
598-SW-S 8' AIS Marine Antenna w/25' Cable
Designed to meet the exacting AIS frequency requirements and in conjunction with the USCG Automatic Identification System (AIS) requirements for commercial vessels, Digital Antenna created a series of 8' AIS antennas that provide a low 1.5:1.0 SWR ratio from 159-162 MHz. These 4.5dB gain AIS antennas offer unsurpassed durability and performance and are compatible with all AIS transponders.
Customers and installers love the easy installation connector system on the 500 GOLD Series antennas. Eliminate soldering with the factory-attached GOLD mini-UHF female connector. It requires only a 3/8" hole for cable routing and makes connecting to the radio simple with the provided screw-on adapter.
Made in the USA; assembled, tested and tuned by hand for superior performance and reliability.
Features:
Powerful brass radiators
Soldered connections
Power directing ferrite choke bead
High gloss urethane finish
316 stainless steel ferrule
4.5dB gain
Mount: Standard 1"-14 threaded base
Connector: Gold factory-attached mini-UHF female with mini-UHF male to UHF male (PL259) adapter
Cable: Includes 25' of low-loss, tinned braid, foil shielded, UV stable RG-8X marine cable
This product may not be returned to the original point of purchase. Please contact the manufacturer directly with any issues or concerns.