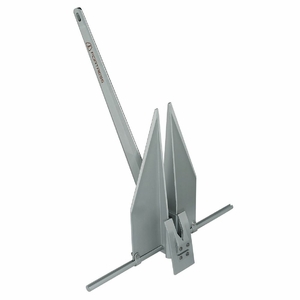 Fortress FX-7 4lb Anchor f/16-27' Boats
FX-7 4lb Anchor f/16-27' Boats
In test after test, from coast to coast and from around the world, no anchor in history has been called "The Worlds Best Anchor" by more boaters and respected marine experts than Fortress...and for good reason.
Years of research and development, high-tech materials and manufacturing and thousands of real world tests are your assurance of performance, quality, and value. Fortress weighs only half as much as heavier steel anchors and yet outperforms them all.
Why? Because the Fortress design does not depend upon weight to provide world class performance. All this adds up to your best value in anchoring safety and convenience.
Feature
Precision-machined from an aluminum alloy that is as strong as steel, but only half the weight
Can be disassembled
Lifetime Parts Replacement Warranty
Adjustable 32° to 45° fluke angle
Tough anodized finish
Benefit
Easy to manage weight
Rustproof
Sharper than heavy, dull-edged steel anchors
Will set faster and penetrate deeper into common sea bottoms for incredible holding power
Excellent as a spare or storm anchor
Easy to store
Free replacement of any damaged anchor part...Forever!*
Exclusive feature which dramatically increases holding power in problem soft mud bottoms
Handsome and durable appearance
Corrosion resistant